Founded in 2003, Meizu built and marketed several smartphone models until November 2018. It is always possible to buy the latest models of Meizu smartphones online.
Zoom on 2 Meizu smartphone models
Equipped with a lateral fingerprint sensor, the Meizu M6S makes it easy to lock your phone. Very easy to learn, it offers interesting performances for games, videos as well as for checking your email.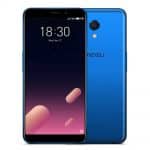 Meizu M6S technical specifications
5.7-inch HD display
16 megapixel camera
64 GB internal memory
3000 mAh battery
This is the top-of-the-range model from the Chinese smartphone brand Meizu. With its Qualcomm Snapdragon 845 Octacore processor, it perfectly meets users' expectations, as shown by the very positive reviews published on online sales sites.
For more information on the Meizu M3E :
6-inch Super AMOLED Full HD display
Double camera of 20 and 12 megapixels
20 megapixel front camera
64 GB internal memory
Flyme OS 7.5 operating system
Meizu brand news