The Chinese company Blackview, founded in 2013, manufactures and markets particularly robust smartphones at very affordable prices. His entrepreneur's idea of focusing on quality without driving up the price has made him one of the world leaders in his sector.
Blackview offers many smartphone models, all of which are highly qualitative and accessible. However, they differ from each other in their characteristics and functionalities. Here is our comparison of the best Blackview smartphones to help you make the right choice.
Blackview Smartphones on sale now!
Our selection among the best models of shock-resistant Blackview smartphones
The Blackview A60 Pro smartphone (2019)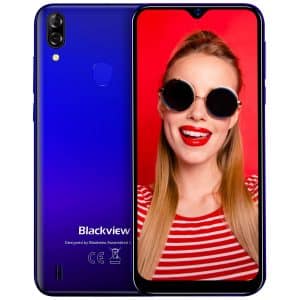 Running on Android 9.0, the Blackview A60 Pro allows small budgets to equip themselves with a quality smartphone. It is equipped with the Helio A22 processor, which offers controlled and optimal energy consumption. Its 6.1-inch FullView display is borderless. In terms of photos, it has a dual 8 and 2 megapixel rear camera and a 5 megapixel front camera for selfies.
With a dual SIM slot, the Blackview A60 Pro smartphone can be used for both work and private use without having to mix work and private life. Its 16GB storage capacity can be extended to 256GB with an SD card.
The screen can be unlocked with the fingerprint reader or facial recognition.
This smartphone meets the needs of people who do not have a large budget for their device and who are looking for an easy and intuitive handling, a well-designed and optimal performance.
The Blackview BV5500 Pro smartphone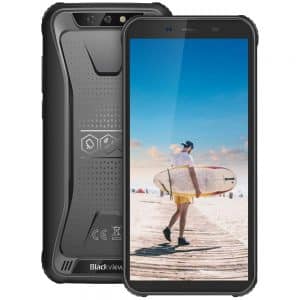 Very good value for money for this Blackview smartphone model. It offers high quality features and functionality at a truly competitive price. As a result, the Blackview BV5500 Pro can go underwater for nearly 60 minutes and to a depth of 1.5 metres. It can be used under extreme conditions. Indeed, it has been designed to withstand temperatures ranging from -30°C to 60°C!
But what we are asking above all from a smartphone is to be able to communicate with the outside world. And here too, the Blackview BV5500 Pro's performance is remarkable in terms of the price displayed. The 4G works perfectly. Navigation is smooth. However, it should be kept in mind that this is an entry-level model. So you won't have the same features and speed of execution as with a premium smartphone. But the performance of the Blackview BV5500 Pro makes it a smartphone with a very attractive price-performance ratio.
This entry-level smartphone fulfils its role and allows you to equip yourself with a powerful and robust smartphone at a very competitive price. It is recommended for people who are looking for a phone that can cope with some shocks and/or dust, especially in the context of their professional activity. It is thus adapted to the construction industry.
The Blackview BV5800 Pro IP68 smartphone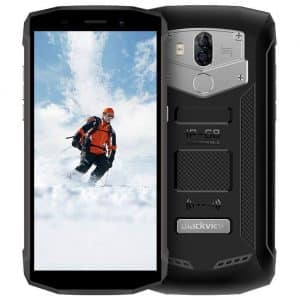 With this model, Blackview presents one of the most robust smartphones on the market. Rather imposing, it surprises with its capabilities worthy of the most powerful smartphones despite a very affordable price.
True to its reputation, the Chinese brand has developed an extremely robust smartphone that is resistant to impact, water and dust. It comes with an audio headset, USB adapter cable and charging cable and is carefully packaged.
This Blackview smartphone justifies its place among the most robust models on the market thanks, among other things, to its IP68 certification. This reflects its ability to be immersed in water to a depth of 3 m for 30 minutes without suffering any damage.
The materials of manufacture have been carefully chosen to achieve this particularly high level of resistance: metallic alloy, plastic material and extremely resistant rigid rubber.
The screen has a very appreciable size of 5.5 inches and is equipped with Gorilla Glass 5 protection for optimal resistance to shocks and scratches. In addition, the entire body of the phone is protected by a border that prevents friction. However, in terms of definition quality, it is surpassed by other models in its range with a screen resolution of 720 x 1,440 pixels.
This functional unbreakable smartphone has a connector for charging and transferring data and a USB charging connector. Thanks to the adapter provided, it can recharge another mobile device.
With 2 GB of RAM and 16 GB of ROM, it has innovative and practical applications and features such as a compass or QR code scanning.
The camera is powerful with a dual camera of 13 and 0.3 megapixels. The resolution is convincing and the colours are realistic. The front camera for selfies displays 8 megapixels. This is not an exceptional performance, but it is still very significant.
The Blackview BV5800 smartphone offers excellent range. Under normal use, it remains perfectly functional for 3 full days. It is therefore able to satisfy the requirements of users who practice many outdoor activities.
The Blackview P6000 smartphone
This Blackview smartphone has very convincing features in terms of robustness, autonomy and performance. Comes with all the essentials, it also comes with a screen protector, a pair of headphones, an OTG USB cable and a heavy-duty flexible plastic case.
The Blackview P6000 stands out from the other models in its range by its visual aspect. Brilliantly designed, it features a metal frame and curved glass at the front and rear. Its metallic bluish colour is particularly attractive and leaves few fingerprints.
Equipped with a large battery, this smartphone is slightly heavier than the previous one. However, its design gives it a relatively thin profile that catches up with this small defect. In addition, this battery is really advantageous since it guarantees an excellent autonomy of 17 hours of listening and can be fully charged in just 2 hours.
Robust and ergonomic, the P6000 is easy to use. The capacitive button in the center picks up fingerprints and allows the user to return to the home screen. The screen displays 5.5 inches and a resolution of 720 x 1,440 pixels. The dual camera camera features a double flash led. The shots are rather qualitative and the colors realistic. On the other hand, you can't make pretty deep blurred images. The selfy camera displays 8 megapixels and offers very convincing results.
Functional and powerful, this Blackview smartphone has the facial recognition unlocking function. As for the audio quality, it is quite correct with the headphones but is rather limited to the speaker on the back of the phone.
The Blackview BV6000S
This Blackview smartphone is indestructible. That's why it continues to convince new users who practice regular outdoor activities. But this is not its only quality, as it also excels in terms of autonomy and performance, not to mention its camera, which guarantees very high quality shots.
With a RAM of 3 GB, it has a very impressive GPS position acquisition speed. Reactive and powerful, it guarantees a smooth and pleasant use. Functional, it comes with a multitude of practical accessories for everyday use. Whether it is the charger or the in-ear headset, the strength is always proven. In addition, an OTG adapter and a flexible screen protector are also included in the package.
On the design side, it is a rather imposing smartphone. Modern and ideally designed, it uses quality manufacturing materials such as metal and ultra-resistant plastic. Its screws are made of stainless steel and the SIM and SD cards are protected from the risk of corrosion by a screwed cover and a rubber membrane.
Robust and perfectly waterproof, the BV6000 is an all-terrain smartphone. A metal frame, a reinforced shell and Gorilla Glass protection for the screen give it a perfect water and dust tightness as well as excellent impact resistance. IP68 certified, it can be immersed for 30 minutes to a depth of 3 m without suffering any damage.
In terms of audio quality and battery life, the BV6000 is once again meeting the challenge. The user can listen to music with a quality sound that is free of crackling noise. In traditional use, this smartphone announces an autonomy of at least 2 days. Full charging takes only 3 hours.
Extremely robust, this Blackview smartphone is the ideal alternative for outdoor enthusiasts who don't have to worry about where their mobile phone is in their bag.
The Blackview BV7000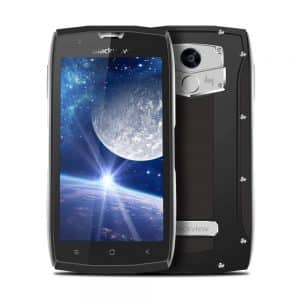 Slimmer than its little brother the BV6000, this unbreakable smartphone has a more modern design and sleeker lines. It is one of the finest on the market while offering a lighter weight. The handling is therefore pleasant and the phone is very handy. Another notable difference is that the Full HD screen displays 5 inches, unlike the BV6000 which has a 4.7 inch screen.
Particularly robust, this smartphone has an excellent longevity thanks to an extremely resistant metal chassis. True to its reputation, Blackview is once again using high quality materials and manufacturing processes to produce an unbreakable smartphone. A special feature of this smartphone is the presence of a fingerprint sensor on the back. This function can be deactivated according to the user's wishes.
The precious IP68 certification is present to guarantee the phone's water and dust tightness. The screen covered with Gorilla Glass 3 protection gives it excellent impact resistance.
In terms of autonomy, this Blackview is limited by the choice of its slimmer design. Indeed, this advantage forces the brand to slip a smaller battery whose capacity is therefore slightly reduced. Good news though, it recharges very quickly and has a USB-C port.
In terms of capacity, the BV7000 is very powerful with 2GB RAM and 16GB of ROM. The camera guarantees quality images with realistic colours and very good contrasts. The front camera has 8 megapixels and the main one has 13 megapixels.
Extremely solid, high-performance, ergonomic and attractive, this highly accessible Blackview smartphone is able to meet the needs of its user for many years to come.
The Blackview BV9700 Pro smartphone
The features of this Blackview BV9700 Pro smartphone are sure to seduce you:
night vision camera
heart rate detection
air quality detection
wireless charging
IP68 waterproofing
anti-shock
It is clearly a smartphone suitable for athletes and thrill-seekers. It is equipped with a Helio P70 MediaTek processor that allows it to provide smooth navigation and optimal use of different mobile applications. It runs on Android 9.0.
This model is clearly a success for the Chinese brand Blackview. Moreover, the opinions of other buyers show their enthusiasm for the performance and features of the Blackview BV9700 Pro.
The Blackview P10000 Pro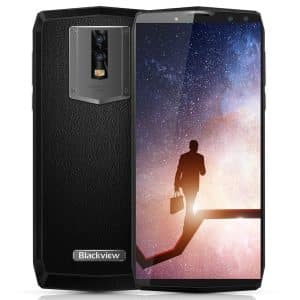 Extremely robust, this Blackview smartphone stands out for its high-performance battery.
Rather imposing, it is not among the lightest in its range. This is due to its huge battery which gives it an unequalled autonomy. Despite everything, it fits in your pocket even if it doesn't go unnoticed.
Its main strength is its robustness. This is an indestructible smartphone with metal strips on the sides, a high-strength plastic material and a glass finish. In addition to its longevity, it is pleasant to handle and to look at. A metal frame is present inside the phone to optimize its torsional resistance. Ergonomic, it has rather large volume buttons and is easy to use. To improve its strength level, the P10000 Pro incorporates a thicker front glass whose shape fits perfectly into its slightly curved edges.
Ideally designed, this unbreakable smartphone features a 6-inch LCD screen with Full HD Plus resolution. As for its RAM, it amounts to 4 GB.
The camera has the dual camera with a main sensor displaying 13 megapixels. As for the quality of the shots and videos, it is less convincing than that attested by the other Blackview smartphones described above. Sharpness is not optimal and colours may lack brightness.
Efficient and energy-efficient, the P10000 has a 6-day battery life under normal use. This use involves telephone calls and web browsing sessions. This is a very valuable asset for users who are involved in many outdoor activities.
Overall performance and extremely robust, this Blackview smartphone has a very popular strength, its powerful battery that meets the expectations of the most demanding users in terms of range.